SCROLL DOWN

marsil - your hotel
in the heart of cologne.
insider tip for photo & art fans
and friends of alternative
lifestyle.
It would be a great pleasure
for us to welcome you!
Our historic building has been
family-owned since 1999.
Booking / Request
MAISON MARSIL – the boutique hotel in the Cologne Hahnenviertel in the heart of Cologne. Shopping, art, culture, events,... the old town and the world famous cathedral just around the corner.
What are you waiting for – book now with best conditions you can find. And if you book directly (instead of via Booking, HRS & Co) – did we mention our little thank you?
Ask at the reception :)
Please send us a mail to:
hotel(at)marsil.de
or give a call at:
+49 (0)221 – 57 00 11 60
or book direct

Rooms
Awaiting you at MAISON MARSIL is individual design paired with family service in an inspiring location. Modern meets monument. The rooms are marked by a consistent design and furnished with luxurious queen-size box spring beds, a private modern bathroom and, of course, a mini-bar. Some rooms are equipped with an additional comfortable sofa bed which is perfect for one more person or for children as a family room.
Have we already mentioned our balconies? Our front cooking breakfast? Our coffee machine that puts a smile on your face?
MAISON MARSIL for design & architecture aficionados, art lovers, business travelers, Instagram addicts, influencers, old facebook fans, fashion bloggers of all kinds, and families with children, who feel comfortable at the heart of the action. And yes, it's quiet here, too.
Prices for a single room start at 88 EUR/night, and for a double room at 108 EUR/night. Workspace at Hotel Marsil
You can use our rooms as working spaces. The deluxe rooms have a desk and in our house you have free high-speed WiFi available.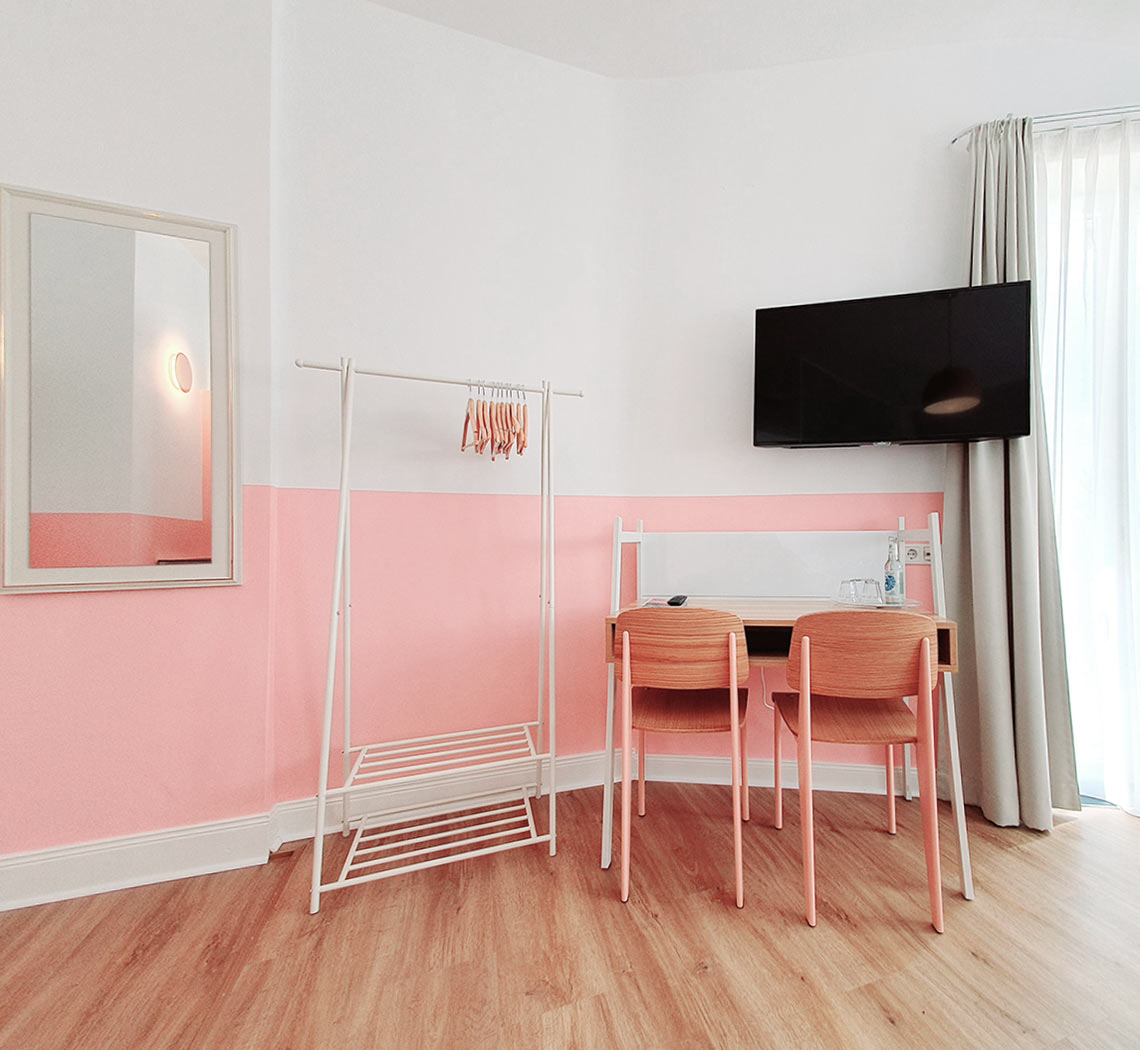 Frühstück at Hotel Marsil
Vegetarian breakfast buffet in the kitchen:
Organic scrambled eggs and vegetables, muesli with yoghurt and fresh fruit, rye bread and cheese variations, toast and jam, coffee and cappuccino, orange juice
€ 15,00 per person
Mo to Fri 7:00 bis 10:00 Uhr
Sat, Sun, holidays 8:00 to 11:00


Quick-Breakfast for those in a hurry
Cappuccino, Croissant & Orange Juice
€ 9,00 per person
Mo to Fri


Beverages
at the bar
or 24/7 directly from the fridge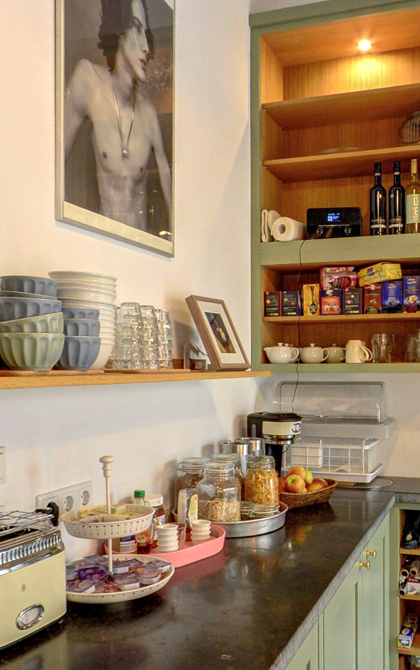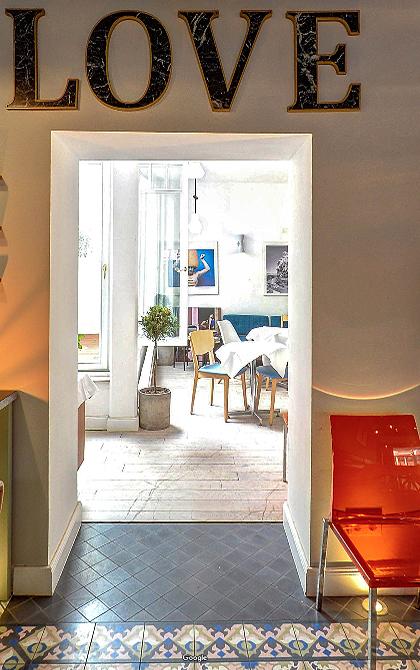 Stay overnight in Cologne
MAISON MARSIL is a family-run boutique hotel full of atmosphere and authentic details. It is nestled in a monument-protected ensemble built in 1897 and located between Neumarkt/Schildergasse and Rudolfplatz near the Belgian Quarter only a stone's throw away from several restaurants.

On a business trip to Cologne or privately city hopping in the simpatico metropolis on the Rhine. MAISON MARSIL invites business people and weekend travelers alike.
High-speed WiFi in the entire hotel. High quality, comfortable and with easygoing service. Everything you need for an overnight stay in a relaxed atmosphere like at a friend's.

FHM Collections wrote
"If you want to stay in Cologne and experience an unusual ambience, take note of this address.
The 6 rooms are lovingly decorated in original second hand furnishings – you should appreciate the art of kitsch. You can sleep for as long as you like at Marsil, room service will not wake you. You might need a good night′s rest after a night in the bar on the ground floor, here you can meet the hotel′s proprietors, their guests, friends of the house and drink with them until the early hours."
Recommendation by Suzie, Singer of german band KLEE
"A small hotel with individual rooms and an equally as individual bar in Cologne's nightlife district. Whenever I walk past the Marsil, I stop to peer through windows and check if I can see Frank or Cyrus, if they're there then I go in, because I know it will be a good night. The bar may be small, but never judge a book by its cover. Oh, and you can of course also sleep at the Marsil. There is an hotel above it and you can sleep in for as long as you like …"
Press conference, record release, or film production wrap party?
Vernissage after party or bar mitzvah?
18th or 30th birthday party, after work get together or Christmas party?
The Bar marsil with its fireplace room and our infamous couch is the perfect place for your celebration.
Private parties for larger or smaller events and budgets. For groups of 20 to 80 persons.
Please send an email with your request.

A seceltion of
our Guests & Visitors
| Names
Nora Tschirner, Henrik Vibskov, Klee, Tino Meewes, Franz Dinda, Sebastian Urzendowsky, Louie Austen, Rolf Scheider, Joanna Preiss, Moonbootica, Postscriptum, Birol Ünel, Jeanette Hain, Kostja Ullmann, Clemens Schick, Oliver Korittke, Christian Kiehling, Zumthor Architekten Team, Sara Goldfarb, Superpitcher, Rene Breitbarth, DJs Italoboys, Woody, …
| Companies
Beeline, Universal, Verbotene Liebe, Microsoft, Saatchi & Saatchi, UFA, Kinowelt, ZDF, WDR, NDR, Oper Köln, Platzhirsch, Jockeyclub, Treibstoff Records, Wilkhahn, Pro7, Jules Mumm, Brandpolice, Koziol, KPMG, Wefadetogrey Postproduction, Noir Film, Action Konzept, Miss Sixty, Habitat, Odeon Filmprod, Triumph International, Hasselblad, …
| Press & Galleries
David Zwirner Gallery, Galerie nächst St. Stephan, Galerie Daniel Buchholz, European Kunsthalle, Designer's Digest, Photopresse, Van der Grinten Galerie, Stylepark, AD, Blue, Schmidt & Handrup, Kölnischer Kunstverein, Prinz, …
How to find us
Marsil is located between Neumarkt and Rudolfplatz, in the heart of Cologne's city center.

By car: It can be easily reached from the left bank of the Rhine river via the A57 and A1 motorways. If you are coming from the right bank of the Rhine, please take the A3/A4 and A59.


Parking: There are two parking structures within a few minutes walking distance (Parkhaus Schaafenstrasse or Parkhaus Lungengasse).
By plane & train: A DB train will take you directly from Cologne Bonn Airport to Cologne Central Station (Köln Hbf). Then, it is only two stops to the Neumarkt station with the subway lines U-Bahn 16 & 18.

About
Marsilius is a patron of the city of Cologne and can be seen as a knight figure standing next to Agrippa above a portal in the eastern facade of the Gürzenich building.

According to legend, Captain Marsilius saved the city of Cologne from the Roman Emperor Vitellius, who besieged Cologne in 69 AD. With a clever trick, Marsilius lured the imperial soldiers into an ambush and was able to rescue Cologne.
Since then, Marsilius has been revered, next to the city's founder Agrippa, Roman Empress Agrippina and the Three Kings, as a patron of Cologne.

The day went down in history as 'Marsilius Holzfahrt', which translates to Marsilius Wood Ride, and is a festival which is celebrated on the Thursday before Pentecost.

imprint, disclaimer & Privacy Policy
marsil
Hotel, Bar, Event Location
Marsilstein 25-27
50676 Köln
home made GmbH, Frank Schmitz
phone: +49 (0)221 – 57 00 11 60
fax: +49 (0)221 – 57 00 11 62
E-Mail: hotel(at)marsil.de
tax no. 214/5807/1355
Amtsgericht Köln
Eintragung im Handelsregister